Law Day, as officially recognized by the President of the United States on the first of May each year, is a day to reflect on the importance of law in our society and its role in our country's foundation. In particular, it is a celebration of the rights and benefits afforded to United States citizens under the Constitution.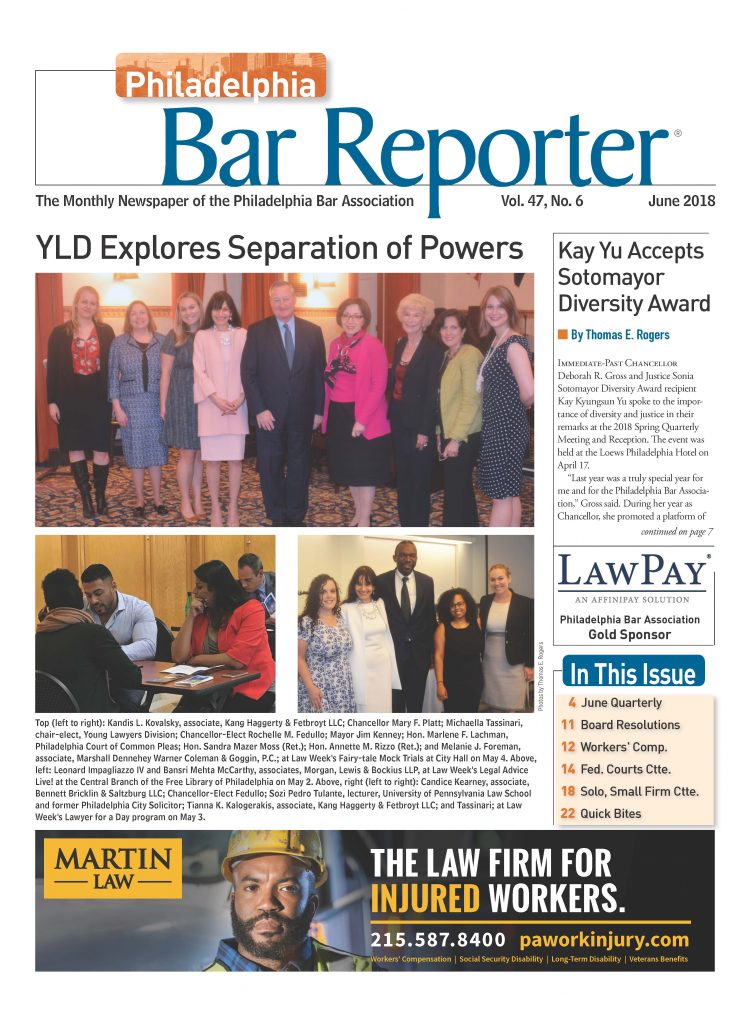 This year, the American Bar Association Law Day Theme was "Separation of Powers: Framework for Freedom." The ABA described this year's theme as follows:
The U.S. Constitution sets out a system of government with distinct and independent branches—Congress, the Presidency, and a Supreme Court. It also defines legislative, executive, and judicial powers and outlines how they interact. These three separate branches share power, and each branch serves as a check on the power of the others. "Ambition must be made to counteract ambition," James Madison explained in Federalist 51. Why? Madison believed that the Constitution's principles of separation of powers and checks and balances preserve political liberty. They provide a framework for freedom. Yet, this framework is not self-executing. We the people must continually act to ensure that our constitutional democracy endures, preserving our liberties and advancing our rights. The Law Day 2018 theme enables us to reflect on the separation of powers as fundamental to our constitutional purpose and to consider how our governmental system is working for ourselves and our posterity.
The Philadelphia Bar Association extends the celebration of Law Day to encompass an entire week. The Young Lawyers Division coordinates programs throughout the city with various schools and communities. These programs include Lawyer for a Day, Fairy-tale Mock Trials, Legal Advice Live, and Lawyers in the Classroom.
On May 3, Law Week hosted its Lawyer for a Day program where attorneys guide groups of high school students around Family Court, City Hall, and the Justice Juanita Kidd Stout Center to observe proceedings. Students who participate in Lawyer for a Day get a chance to see the law in action, and in addition to the attorneys who volunteer to guide the students, the judges who graciously host the students and even attorneys appearing before the court often take time explain the significance of proceedings to the students. Kang Haggerty associate, Tianna Kalogerakis, YLD Appointed Member, co-chaired the program with Candice Kearney.  This is Ms. Kalogerakis' third year serving as co-chair for the program.  This year, thirteen judges welcomed students from School Lane Charter School, Horace Furness High School, Murrell Dobbins Career and Technical Education High School, and Lankenau High School into their courtrooms.  Former City Solicitor Sozi Pedro Tulante addressed the group of approximately 60 students after brief remarks and introduction by Rochelle M. Fedullo, Chancellor-Elect of the Philadelphia Bar Association.
For most of the students who participate in Lawyer for a Day, this is their first time witnessing a legal proceeding first-hand and a chance to see how our system of government makes a real and lasting impact on the lives of the participants from the defendants, plaintiffs, and communities affected. When provided with context of the respective proceedings, these high school students are old enough to understand the significance, and in some cases, permanence of what they observe. Each year, after returning from a morning of observation the students fervently compare their observations and leave more informed about the judicial system.  The goal is to deepen the understanding of our participants and inspire civic-minded growth in an accessible way.

–Tianna Kalogerakis on Lawyer for a Day
On May 4, the YLD, with the help of many Philadelphia judges, hosted the Annual Fairy-tale Mock Trials at City Hall in Philadelphia. The mock trials allow 300 second and third graders to act as jurors and decide the ultimate fate of defendants Goldilocks and Big Bad Wolf. This event allows elementary students to gain a better understanding of the judicial system at a young age and peaks their interest in pursuing law later in life. Kang Haggerty Associate Kandis Kovalsky, YLD Liaison to the Federal Courts Committee, co-chaired this year's mock trials with Melanie J. Foreman and Michaella Tassinari, chair-elect of the YLD. Opening remarks were given by Mayor Jim Kenney. Also present and participating in the event was Mary F. Platt, Chancellor of the Philadelphia Bar Association.
Although I have been involved in this event for a number of years as a volunteer, this was my first year organizing it. This is by far my favorite event during Law Week. The students love it, and in turn, it feels good to make an impression on children of such a young age. It is important for children to understand that the legal system is critical to our country's greatness and independence. An integral part of this legal system is the process of jury service and selection. Jurors perform a vital role in the United States system of justice and our integral to our democracy. I hope we were able to impress this upon the students to carry with them throughout their lives.

—Kandis Kovalsky on Fairy-tale Mock Trials