About Us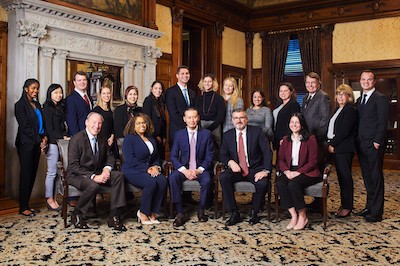 Kang Haggerty LLC ("Kang Haggerty") is a boutique business law firm established in 2013 by a close-knit group of lawyers focused on providing effective and value-driven legal services. Founding members Edward T. Kang, Jacklyn Fetbroyt, and Daniel D. Haggerty had worked together for many years as colleagues before coming together to establish a modern, cost-effective, and client-oriented law firm.
Over the years, Kang Haggerty has expanded in attorney count, office space and services to best serve our clients. Please see our seven core practice areas, and related subcategory pages for more information. We are a law firm dedicated to business and commercial litigation, and related corporate transactional representation. We have attorneys licensed to practice law in Pennsylvania, New Jersey, and New York; and admissions to numerous federal courts around the country.
With offices in Center City Philadelphia and Marlton, New Jersey, Kang Haggerty's team is comprised of a diverse group of attorneys and staff dedicated to the efficient and strategic handling of our clients' legal issues. To that end, the Eastern Minority Supplier Development Council has certified Kang Haggerty as a Minority-Owned Business Enterprise. As the largest Philadelphia-based law firm in NAMWOLF (the National Association of Minority & Women Owned Law Firms), we are proud to promote diversity and inclusion in the legal profession. The diversity of social, cultural, and political backgrounds that our team members represent bolsters our vision as a multi-cultural law practice with an extensive professional network.
Many of our clients migrated with us from prior law firms. They range from individuals to global Fortune 100 companies, start-ups and entrepreneurs to established corporations dealing with day-to-day legal issues that run the gamut from real estate transactions and employment law matters to bet-the-farm litigation. Please see our Representative Matters for detailed examples of our work.
At Kang Haggerty, we have the ability to provide a variety of billing options and alternative fee arrangements to fit your needs—flat fees, contingency fees, hourly rates, and hybrid arrangements.