Practice Areas: Bankruptcy / Business Litigation / Creditor's Rights / Loan Workout
Member – Daniel D. Haggerty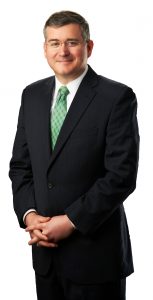 Daniel D. Haggerty is a member of the firm. He concentrates his practice in commercial litigation, creditors' rights, bankruptcy, and transactional matters.
A significant portion of Dan's practice is devoted to the representation of banks and other financial institutions in complex workout matters. This representation includes reviewing and revising loan documents, negotiating and preparing forbearance agreements, securing debt via additional collateral, entering judgments though confession and foreclosure, executing on personal and real property, and pursuing debtors both inside and outside of bankruptcy. Dan has successfully sought and obtained approval of Chapter 11 creditors' plans, and has successfully liquidated assets under Article 9 of the Uniform Commercial Code.  Dan devotes a significant portion of his practice in defending creditors from various types of lender liability claims.
In addition to banks and other financial institutions, Dan also represents several employers in various industries, including IT companies, developers, propane suppliers, and contractors.  Dan counsels these employers relating to diverse matters.  Dan handles their corporate matters, employment counseling matters, and other transactional matters.  As part of his employment counseling, Dan provides his expertise in matters involving confidentiality protection, employee retention/termination, and compliance with employment laws and regulations.
As part of his litigation practice, Dan represents individuals and business entities concerning a wide variety of commercial and real estate litigation, including contract claims, insurance bad faith claims, franchise disputes, enforcement of employment agreements, intellectual property issues, shareholder and partnership disputes, director and office liability, real estate issues, easement battles, land use and zoning issues, and prerogative writ actions involving municipalities and counties.
Dan was an elected member of Council for the Borough of Haddon Heights, NJ, from 2009-2011, where he served in various capacities, including Director of Finance, Director of Police and Fire, and Director of Municipal Court. He serves on the Board of Directors of a Step Toward Hope, Inc., a nonprofit dedicated to the advancement of the treatment, care, and quality of life of persons suffering from spinal cord injuries, and to fund the research associated with the treatment and cure of such injuries. He is also member of Trout Unlimited.
---
Education:
B.S. Rutgers University – Camden (Business Management) '89
J.D. Widener University School of Law cum laude '95
Professional Activities:
Member of the Burlington County Bar Association
Member of the Camden County Bar Association
Member of the Philadelphia Bar Association
Bar Admissions:
Pennsylvania
New Jersey
Admitted to U.S. Appellate Courts
---
Contact
Direct Line: (215) 525-5853
Email: DHaggerty@KHFlaw.com